About us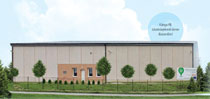 As a result of our development of functional food, in 2010 we introduced to the inland market the product of "GRASS MILK", which contains more of the most important omega 3 fatty acids (for example: α-linolenic acid, EPA, DHA) and conjugated linoleic acids (CLA) due to a special feeding system compared to other traditional milk. Besides favourable rate of fatty acids, our products promoted as UHT-milk and cacao, – apart from natural vitamin D content – contain supplemented vitamin D (calciferol). Our product family based on the GRASS MILK is continuously completed with further products (for instance: cheese, kefir, yoghurt). Besides milk and dairy products, the team mates of Adexgo have developed such a functional egg-based product-family as well, which can be applied in the therapeutic diet of cardiovascular illnesses, of type 2 diabetes and in the diet for the prevention of premature birth. Our development concerning qualified lean pork meat, which is rich in omega-3 fatty acids and CLA, is already in the last phase.
The production of functional food was realized by using our own developed and produced feed supplements. It made the possibility to launch such marketable products on the market, which provides a cost-effective solution for the special problems of the intensive-producing economic.
Experts of our company support the feeding of the dairy cows with elaborating unique retardation and rumen-protection methods, especially in early peak lactation:
The widening product range of the company offers a number of alternatives to satisfy the needs for sugar and rumen protected protein of the high-yielding dairy cows.
Our rumen protected methionine and choline products play roles also in the prevention of some metabolic diseases (e.g.: ketosis, fatty liver disease) besides improving the milk production and its protein content.
The special fat supplements rich in omega 3 fatty acids are perfect for improving the reproduction results of the high-yielding dairy cows and monogastric animals (e.g. sow).
The effectiveness of our special feed supplements was confirmed by field feeding studies besides the model studies at universities and research institutes!
Research and development, model and operative pre-clinical, physiological and laboratory trials services of ADEXGO:
Cooperation in research projects, and/or being a subcontractor in the field of functional food preparation (e.g. producing special supplements, organising and managing pre-clinical studies, food planning, laboratory activities, organoleptic analysis etc.)
Defining the nutrition value of novel raw materials and by-products (e.g. biodiesel production, food industry)
Developing special additives and supplements (e.g. bypass protein and fat products, AGP-alternatives, natural feed supplements etc.), further development of the existing products
Chemical studies of feeds and foodstuffs (raw materials and final products) in cooperation with laboratories
Metabolism and digestive studies with monogastric animals (pig, poultry, etc.)
Field trials with ruminant animals (e.g. high yielding dairy cows), pigs, poultry (e.g. broilers, laying hens), if there is a need with other animal species as well (e.g. rabbit)
Statistical evaluation (using SAS®, SPSS software)
Model studies with rumen- and duodenum cannulated steers and sheep (in situ, in vitro, in vivo, rumen fermentation, post-ruminal degradation of nutrients, etc.)
Studying digestion-physiology of monogastric and ruminant animals (in model- and field trials)
Metabolism profile monitoring of dairy cows, and professional evaluation of micro element status and TMR
Monitoring the microbiological status of the digestive system
Studying the clime of stalls (e.g. installing automata meteorological stations in certain production areas)
Preparing trial reports, in foreign languages as well
Our products
Besides the developments of functional foods, Adexgo Ltd. deals with the manufacturing of feed supplements and feed additive premixes as well. These products offer cost effective solutions to the special problems of intensive farm livestock.
Learn about our products »
The most important principle of Adexgo Ltd. is to develop health protecting foods (e.g. milk, egg, meat) that can reach out tothe widest circle of consumers, thereby contributing to the reduction of diseases resulting from unhealthy diet.
Learn about our products »
ADEXGO Kft.
Lapostelki street 13.
H-8230 Balatonfüred, Hungary

Phone: +36 20 614 9150
E-mail: info@adexgo.hu