Based on the aroma tests performed in the Correltech® laboratory of ADEXGO Kft., scientists of MATE performed the classification of dairy products fermented with Lactobacillus strains showing different probiotic potentials. The study raises the possibility that the electronic nose can be used in the selection of probiotic cultures as well as in the monitoring of the fermentation processes.
---

Electronic nose for monitoring odor changes of lactobacillus species during milk fermentation and rapid selection of probiotic candidates
Zoltan Kovacs, Zsanett Bodor, John-Lewis Zinia Zaukuu, Timea Kaszab, George Bazar, Tamás Tóth, Csilla Mohácsi-Farkas
Probiotic bacteria have been associated with a unique production of aroma compounds in fermented foods but rapid methods for discriminating between foods containing probiotic, moderately probiotic, or non-probiotic bacteria remain aloof. An electronic nose (e-nose) is a high-sensitivity instrument capable of non-invasive volatile measurements of foods. In our study, we applied the e-nose to differentiate probiotic, moderately probiotic, and non-probiotic Lactobacillus bacteria strains at different fermentation time points (0th, 4th, and 11th) of milk fermentation. The pH of the changing milk medium was monitored with their corresponding increase in microbial cell counts. An e-nose with two gas chromatographic columns was used to develop classification models for the different bacteria groups and time points and to monitor the formation of the aromatic compounds during the fermentation process. Results of the e-nose showed good classification accuracy of the different bacteria groups at the 0th (74.44% for column 1 and 82.78% for column 2), the 4th (89.44% for column 1 and 92.22% for column 2), and the 11th (81.67% for column 1 and 81.67% for column 2) hour of fermentation. The loading vectors of the classification models showed the importance of some specific aroma compounds formed during the fermentation. Results show that aroma monitoring of the fermentation process with the e-nose is a promising and reliable analytical method for the rapid classification of bacteria strains according to their probiotic activity and for the monitoring of aroma changes during the fermentation process.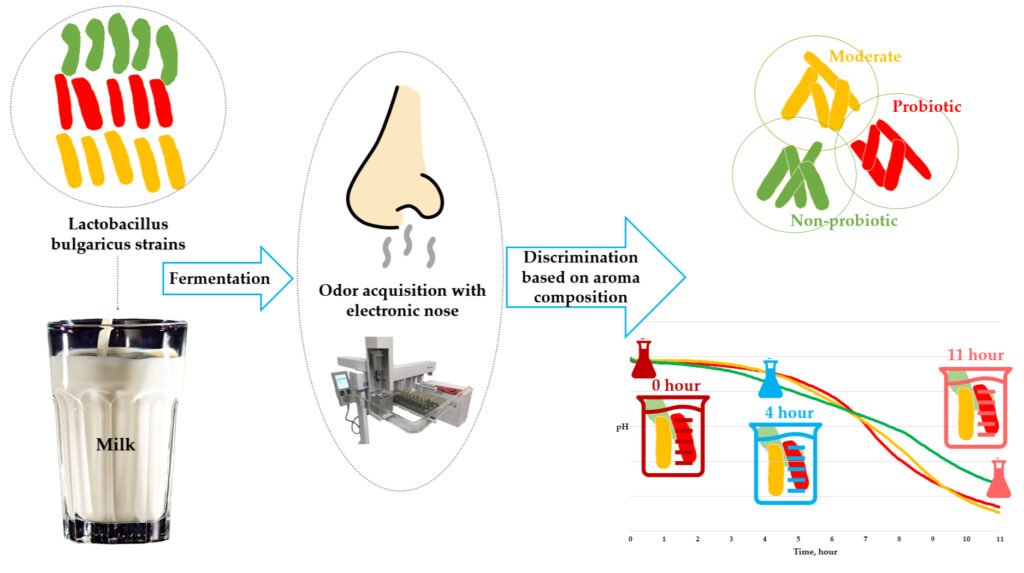 Access the full paper free of charge on the website of the journal:
» Electronic nose for monitoring odor changes of Lactobacillus species during milk fermentation and rapid selection of probiotic candidates