Published by the scientists of ADEXGO Kft., Széchenyi University and MATE, an extremely thorough literature review is now available in the prestigious international scientific journal Critical Reviews in Food Science and Nutrition. In addition to the technical background of near-infrared spectroscopy, the review paper discusses in detail its applications in the entire product chain, from the feeding of dairy cattle to the testing of raw milk and dairy products.
---

The recent advances of near-infrared spectroscopy in dairy production – a review
Haruna Gado Yakubu, Zoltan Kovacs, Tamas Toth, George Bazar
One of the major issues confronting the dairy industry is the efficient evaluation of the quality of feed, milk and dairy products. Over the years, the use of rapid analytical methods in the dairy industry has become imperative. This is because of the documented evidence of adulteration, microbial contamination and the influence of feed on the quality of milk and dairy products. Because of the delays involved in the use of wet chemistry methods during the evaluation of these products, rapid analytical techniques such as near-infrared spectroscopy (NIRS) has gained prominence and proven to be an efficient tool, providing instant results. The technique is rapid, nondestructive, precise and cost-effective, compared with other laboratory techniques. Handheld NIRS devices are easily used on the farm to perform quality control measures on an incoming feed from suppliers, during feed preparation, milking and processing of cheese, butter and yoghurt. This ensures that quality feed, milk and other dairy products are obtained. This review considers research articles published in reputable journals which explored the possible application of NIRS in the dairy industry. Emphasis was on what quality parameters were easily measured with NIRS, and the limitations in some instances.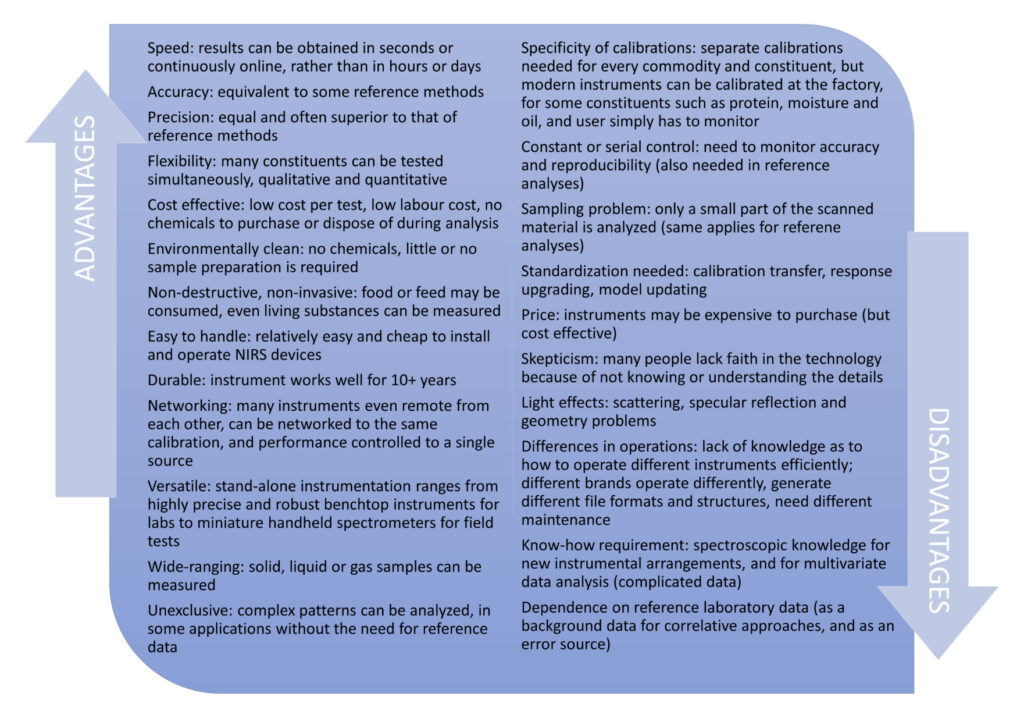 Purchase the full paper on the website of the journal or request a copy from the authors:
» The recent advances of near-infrared spectroscopy in dairy production – a review