Research conducted by coworkers of ADEXGO Kft., Hungarian University of Agriculture and Life Sciences and Széchenyi István University has proven that the feed supplement of ADEXGO Kft. can effectively improve the chemical composition of milk, thus, its nutritional quality can be enhanced, but the change, although it can also be detected by instrumental aroma analysis, does not affect human consumers as the organoleptic properties are not sensible.
---

Effect of feed supplementation based on extruded linseed meal and fish oil on composition and sensory properties of raw milk and ultra-high temperature treated milk
Tamás Tóth, Paul Joseph Mwau, George Bazar, Gabriella Andrássy-Baka, Hajnalka Hingyi, Éva Csavajda, László Varga
The objectives of this study were to test the influence of a recently developed rumen protected feed supplement containing extruded linseed meal and fish oil (LFO), which was fed to lactating Holstein-Friesian cows for 10 weeks at the rate of 800 g day−1 per animal, on the chemical and fatty acid (FA) composition of raw and ultra-high temperature (UHT) treated milks and to evaluate changes in sensory properties of UHT milk by both instrumental analysis and a panel of human assessors. Inclusion of LFO in the diet did not affect milk yield or the protein and fat contents of raw and UHT milks; however, it improved the FA composition of the milk fat by increasing the concentrations of health-enhancing polyunsaturated FA and beneficially decreasing the n-6/n-3 FA ratio without adversely affecting the sensory properties of the final product (UHT milk).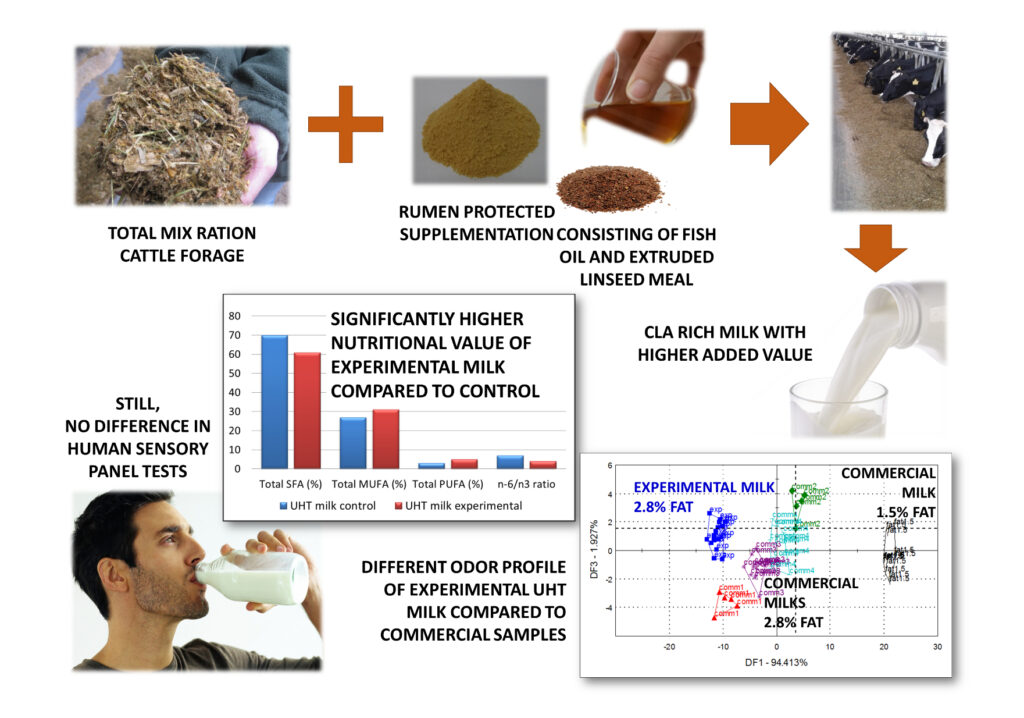 Purchase the full paper on the website of the journal or request a copy from the authors:
» Effect of feed supplementation based on extruded linseed meal and fish oil on composition and sensory properties of raw milk and ultra-high temperature treated milk